25 mai 2014
Après quelques temps passé chez Canalblog, je change d hébergeur pour poser mes paniers chez Blogspot.
J'éspère vous retrouver très vite dans L'atelier de Marguerite Chiffons pour de nouveaux partages et peut être de nouvelles amitiées.

A bientôt .
After a few time spent with Canalblog, I changed of blog holder and bring my baskets in "Blogspot"
I hope to quickly recover you in " L'atelier de Marguerite Chiffons for new shares and may be to meet new people.
Hope to see you soon!
18 avril 2014
Lors de mon dernier message je vous ai expliqué l'histoire du voyage du sac à cadeau organisé par Scarole et ce que Lili m'a envoyé du Portugal. Depuis le sac a continué son voyage chez Sophie à Taiwan.
Après quelques échanges avec Sophie, j'ai pensé qu'elle aimerait la French touch. Sophie fait beaucoup de cartonnage et de couture dans le style shabby. Je lui ai confectionné un porte aiguille et un sac brodé avec des légumes. Sophie aimant les choses raffinées, j'ai choisi une revue de décoration shabby, le Marie Claire idées et le simply vintage. Et j'ai ajouté un tampon "mercerie parisienne" et un petit coussin fait maison.
In my last message I told you the story of the gift bag journey organized by Scarole and presents Lili sent me of Portugal. Since, the bag has continued his journey to Sophie in Taiwan.
After some discussion with Sophie, I thought she would like the French touch. Sophie made a lot of cardboard and sewing in the shabby style. I crafted her a needle holder and an embroidered bag with vegetables. Sophie loves the finer things, I choose a shabby decoration magazine, Marie Claire idées and simply vintage. I added a stamp "mercerie parisienne» and a small homemade pillow.
Modèles de pois de senteur.
Pois de senteur Models.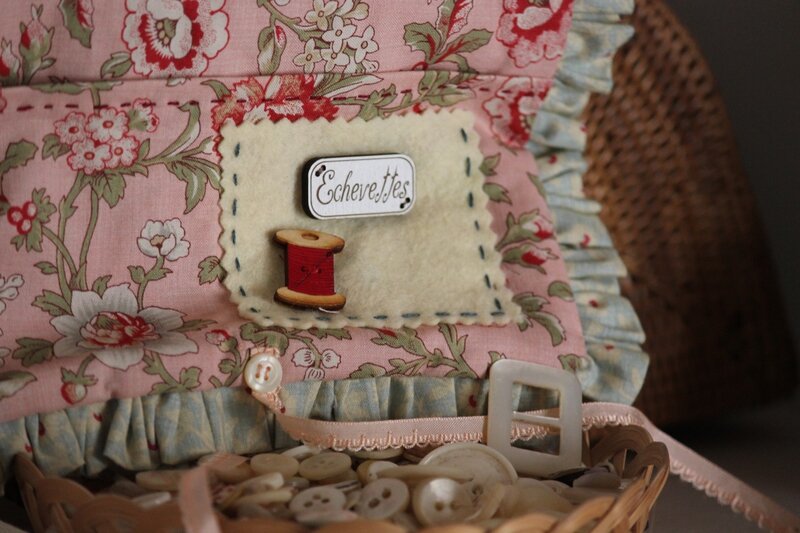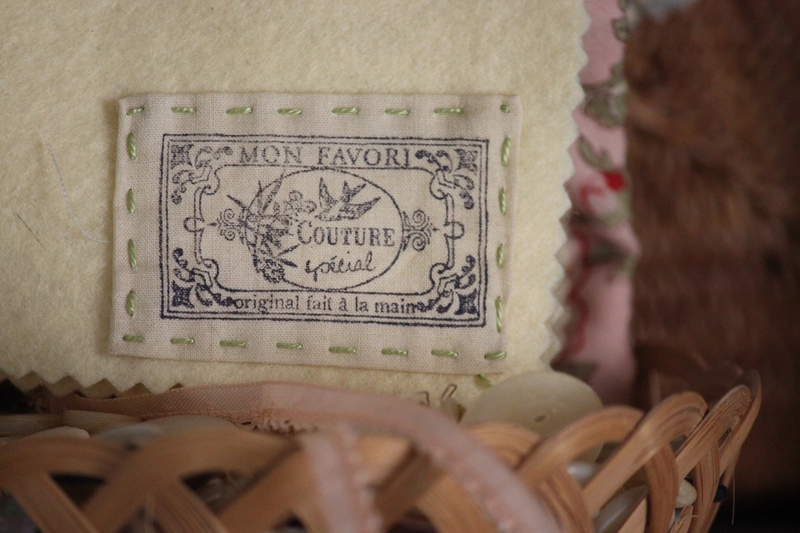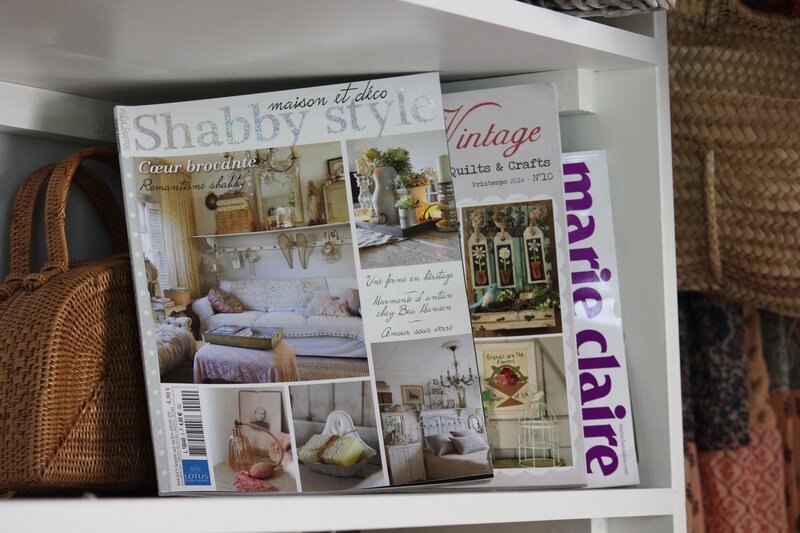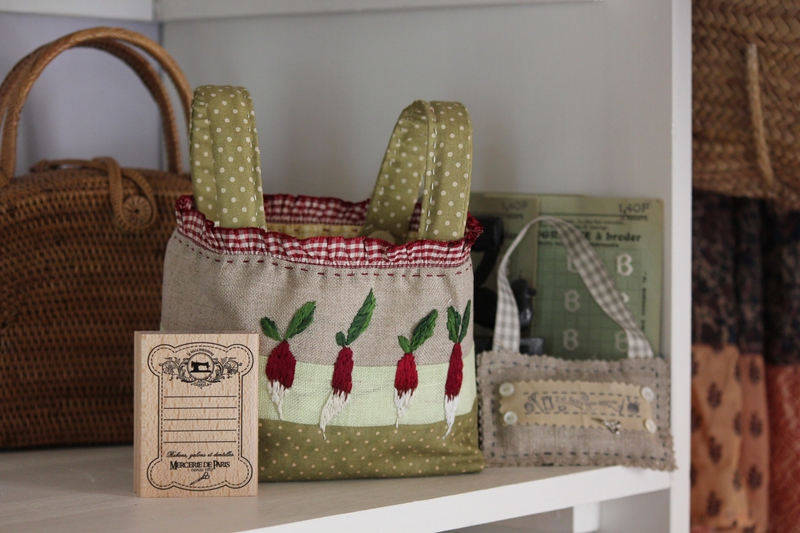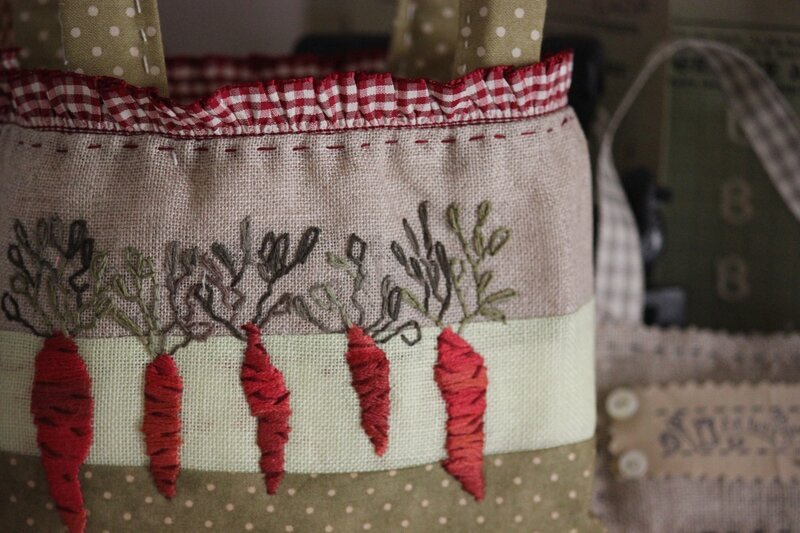 Je vous souhaite de passer un bon Week end et d'excellentes vacances de Pacques,.
I wish you a good weekend and happy Easter holidays.
Margueritte Chiffons
15 avril 2014
L'histoire de la Salt box continue avec Barbara et Rouge Cerise. Ce mois-ci j'ai cousu la maison d'automne. J'ai choisi de confectionner les citrouilles avec des lainages que j'ai rapporté de mon dernier voyage aux Etats Unis.
(Rouge Cerise n'est pas en mesure de poster son article pour le moment, je crois bien qu'il faudra que l'on patiente encore quelques jours)
Salt box's history continues with Barbara et Rouge Cerise. This month, I sewed the autumn house. I choose to make the pumpkins with woollens I brought from my last journey in the United States.
(Rouge Cerise is not able to post her article at the moment, I think we have to wait a few days)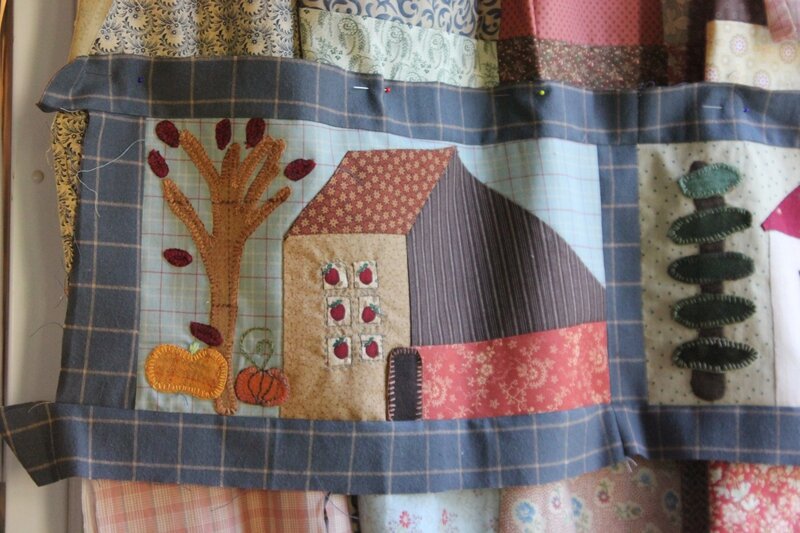 Cet échange un peu particulier, proposé il y a quelques mois par Scarole, il consiste à faire voyager un sac à cadeaux le plus loin possible. J'ai reçu un très gros sac rempli de cadeaux posté par Lili au Portugal. Que de surprises ! Un sampler brodé sur un coussin, des fat quarters, des fils et des rubans, des boutons de nacre et de bois, un cœur brodé, des dés et une grille à broder " Angela "de The Snowflower diaries.
J'ai été vraiment très gâtée. Encore merci à Lili et Scarole d'avoir organiser cet échange.
This exchange a bit particular was proposed few months ago by Scarole, The principle is to permit a gifts bag to travel as far as possible. I received a huge bag filled with lots of gifts posted by Lili from Portugal. What a surprise! An embroidered sampler on a pillow, fat quarters, threads and ribbons, nacre and wooden buttons, an embroidered heart, thimbles and a grid to embroid made by "Angela" from the Snowflower diaries.

I was really honored. Thank you again Lili and Scarole for organizing this exchange.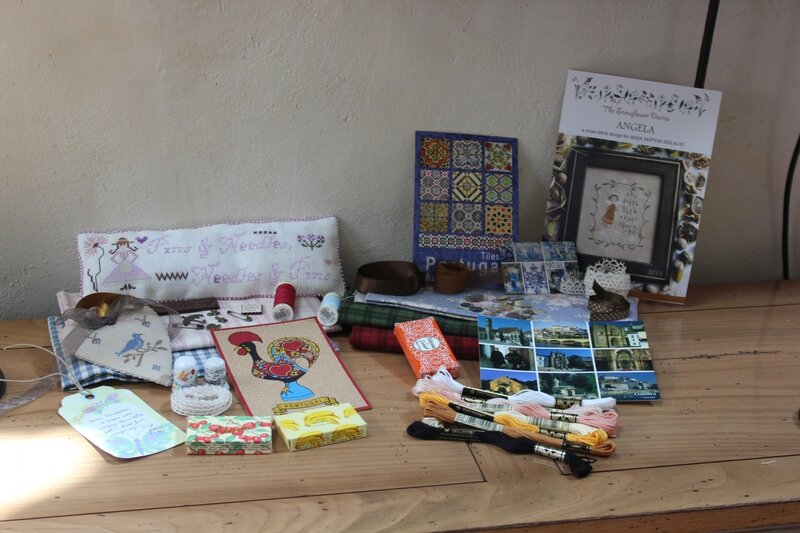 Le sac que j'ai préparé est parti chez Sophie à Taiwan.
I sent the bag I prepared to Sophie in Taiwan.
A bientôt
Les commentaires sont fermés sur ce post.
Margueritte Chiffons
13 avril 2014
Au détour des chemins de campagne qui mène chez ma copine Bree, il y a un village qui a la particularité d'avoir une épicerie, rien d'exceptionnel me direz-vous, sauf que l'épicière est octogénaire.
En traversant le village, une petite maison bleue a attiré mon attention. C'est un refuge pour que les livres voyagent de maison en maison. Le principe est simple, vous prenez un livre, vous en déposez un.
Au pied de la maison bleue, le partage continue avec un mini jardin d'aromates public, verveine, thym, basilique…Une idée d'ouverture et de partage très originale, les maisons bleues de San Fransisco y retrouveraient leurs âmes!
On country roads leading to my friend Bree home, there is a village which has the distinction of having a grocery store. Nothing special you may told me, except that the grocer is octogenarian.
Crossing the village, a small blue house caught my attention. It is a refuge for books to travel from house to house. The principle is simple, you take a book, you drop one.
At the foot of the blue house, sharing continues with a mini public garden of herbs, verbena, thyme, basil ... An idea of openness and sharing very original, San Francisco blue houses could grips their souls there !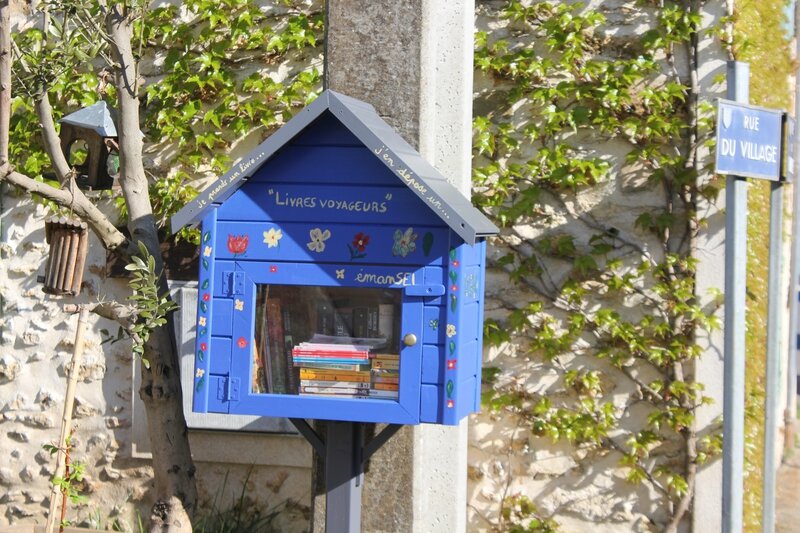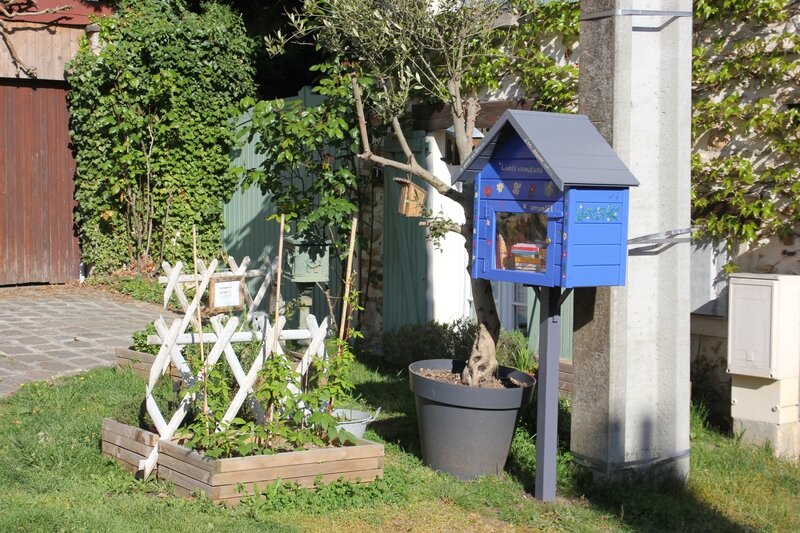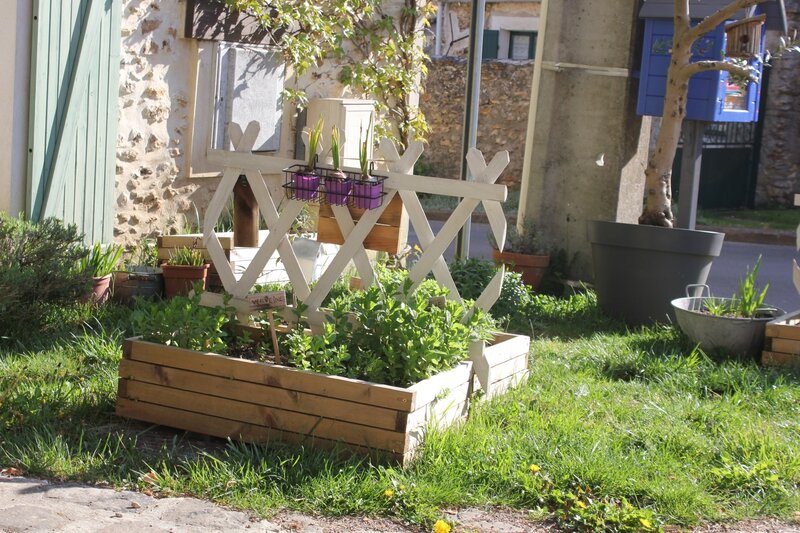 Il y a même des nichoirs pour décorer, j'adore !
There is even birdhouses to decorate, I love it!
J'aimerai voir plus souvent des petits jardins généreux comme celui ci.
J'apprécie beaucoup vos commentaires, soyez simplement indulgentes si je ne réponds à tous, les activités du jardin et de l'atelier ne me laissent pas assez de temps !
I would like to see more often small generous gardens like this.
I appreciate your comments, just forgivie me if I don't answer to all, garden and workshop activities don't leave me enough time!
Bonne semaine
Margueritte Chiffons.
I

would like to see

more

often small

generous gardens

like this.





I appreciate

your comments

, just be

forgiving if

I do not answer

all

the activities

of the garden and

the workshop did

not

leave me

enough time!
02 avril 2014
Une envie de fêter le printemps avec des amies cette année!
Une semaine sous le signe de l'amitié avec Rouge Cerise qui n'hésite pas à prendre le train pour venir passer quelques jours à la campagne.
Mme Cerise est arrivée avec une grosse valise remplie de cadeaux et de gaité. Quatre jours de papotages et d'échanges autour du patchwork et surtout du style country. Je ne sais pas laquelle de nous deux a été la plus bavarde.
Puis, Le mercredi les copines sont venues partager ces bavardages: Verveine ,La Fée , Zaza, Anne Marie, Bree, Brigitte sont venues avec des paniers remplis de quilts tous plus beaux les uns que les autres .
Je vais commencer par l'autoportrait que Mme Cerise a fait de nous deux. Très ressemblant n'est ce pas ?
A desire to celebrate spring with friends this year!
A week under the sign of friendship. Rouge Cerise doesn't hesitate to take the train for spending a few days in the country.
Ms. Rouge Cerise arrived with a big bag filled with gifts and happyness. Four days of chatter and exchanges around patchwork and especially on the country style. I do not know who was the more talkative.
Then Wednesday, friends came to share this talk: Verveine ,La Fée , Zaza, Anne Marie, Bree, Brigitte came with baskets filled with quilts all more beautiful than the other .
I'll start with the self-portrait that Ms. Rouge Cerise made of us. Very similar isnt it?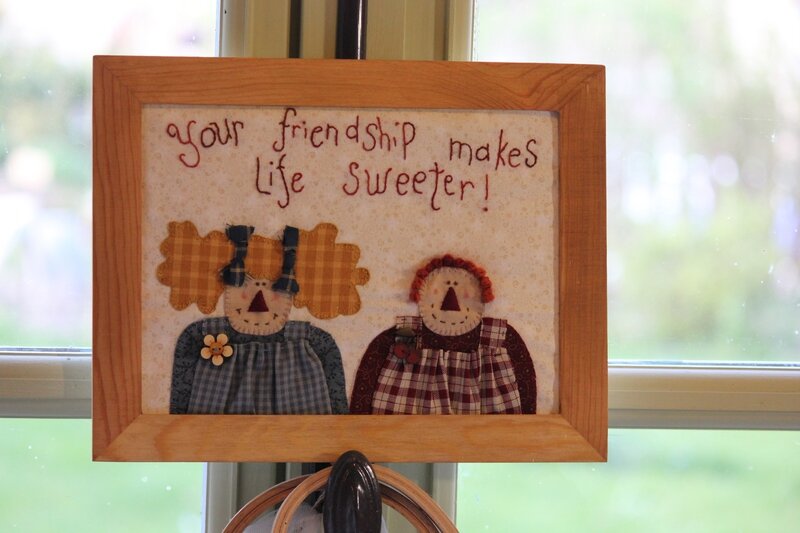 Le porte-ouvrage qui m'accompagne lors de mes voyages. Modèle de Veronique Requena.
The work-holder accompanying me on my travels. Veronique Requena's patern.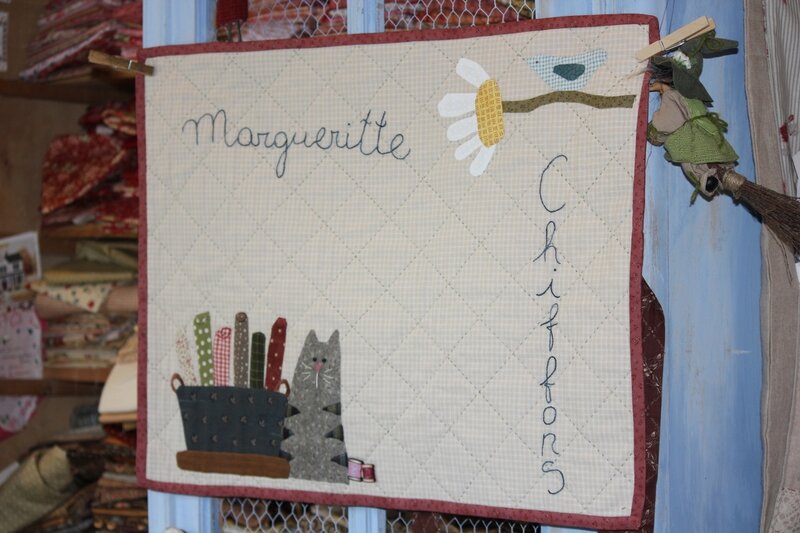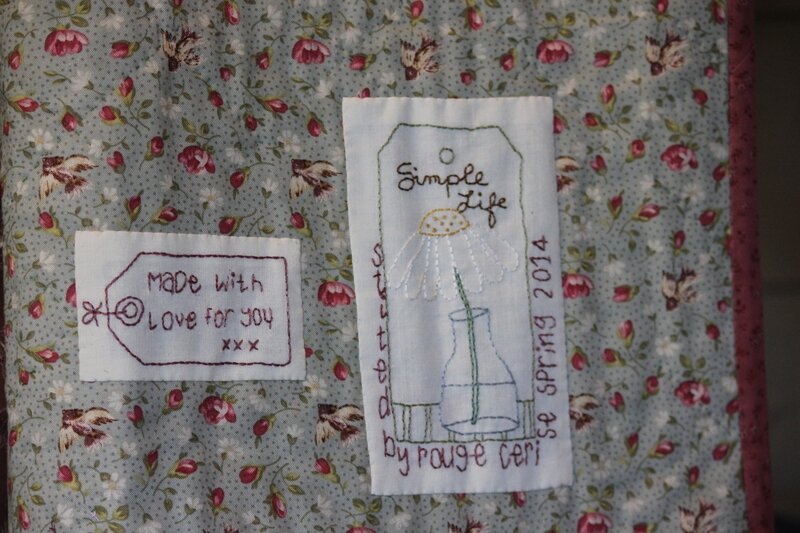 Un coussinet de Stacey West pour Buttermilk Basin.
A Stacey West pillow for Buttermilk Basin.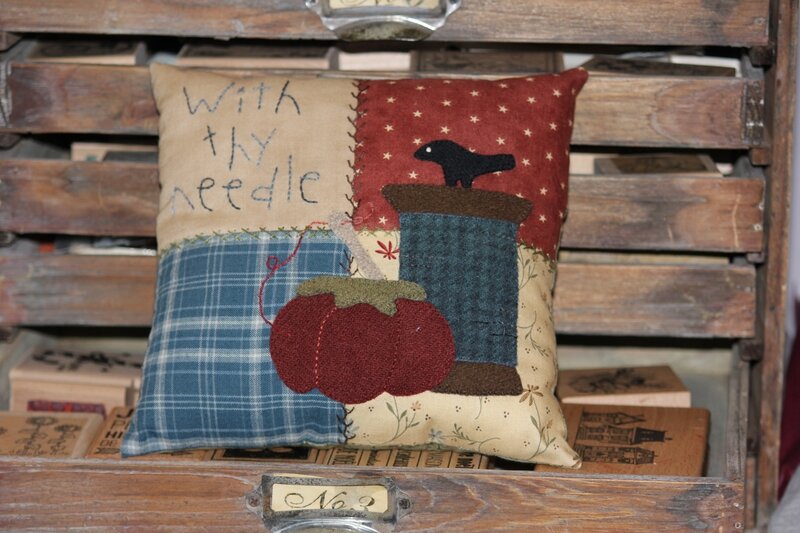 Les paquets cadeaux que j'avais préparés.
The gift packages I prepared.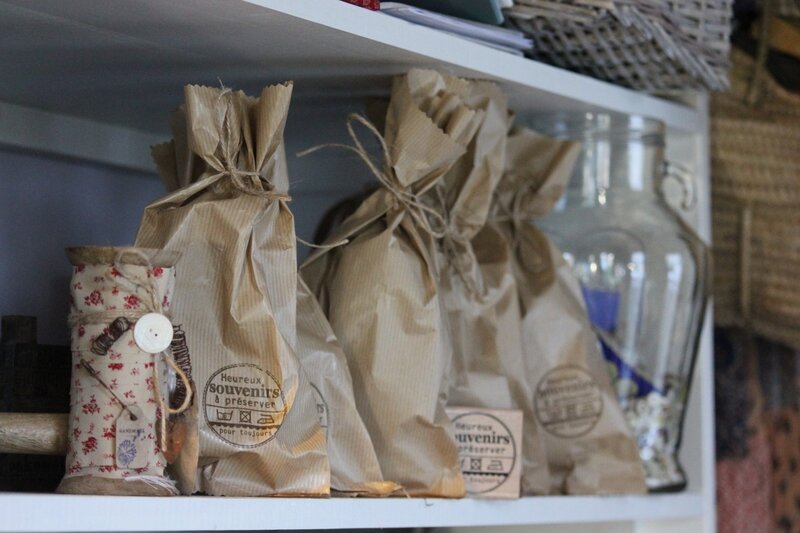 J'étais tombée sous le charme d'une trousse mélangeant style country et jardin de grand-mère sur Facebook,
et bien Anne Marie me l'a confectionné en secret.
I fell in love with à bag, mixing country style and grandmother garden on Facebook
well Anne Marie did it for me in secret.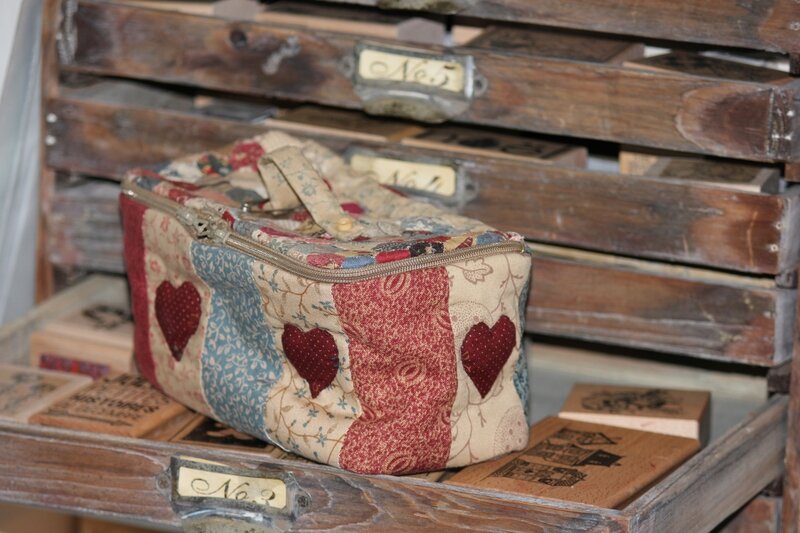 Bree nous a fait un galon décoré pour embellir nos ciseaux.
Bree made us a decorated stripe to beautify our scissors.
La Fée m'a offert une jolie poule qui a l'air bien éspiègle.
La Fée offered me a very mischievous pretty hen.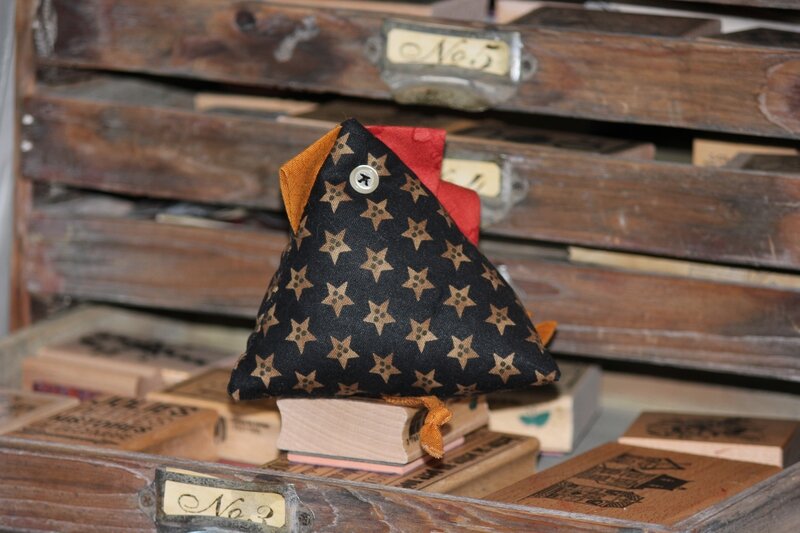 Un porte aiguille en lainage tout doux confectionné par Zaza.
A soft wool pincushion, crafted by Zaza.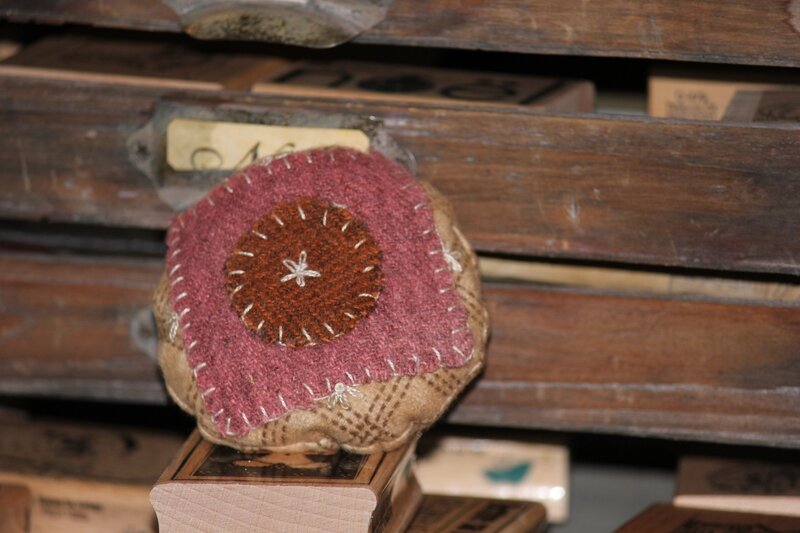 Un porte bobine réalisé par brigitte.
A bobbin holder made by brigitte.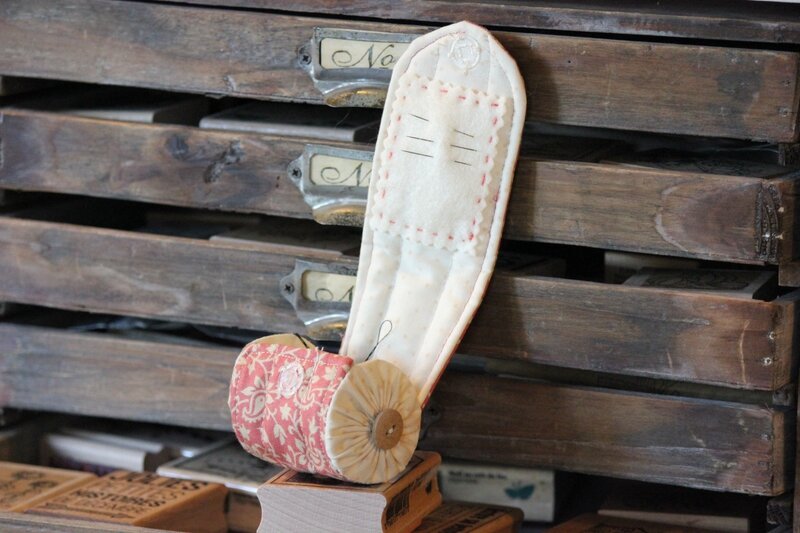 Les marguerites de Mme Verveine.
Daisies from Ms Verveine.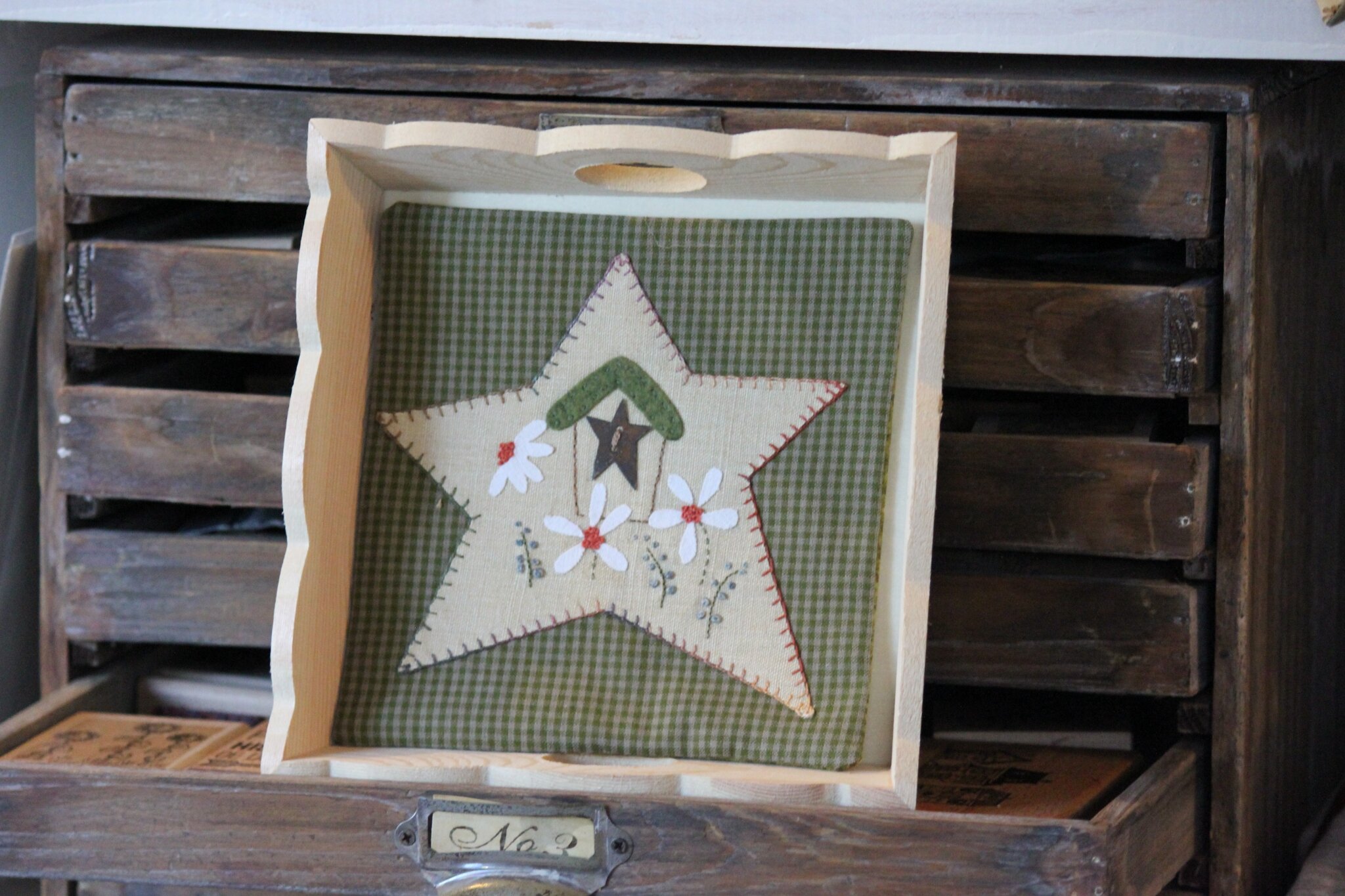 La raggedy de Rouge Cerise.
A raggedy from Rouge Cerise.
Une de mes grosses bobines.
One of my big bobbins
Une journée d'échange et de partage. Une journée sous le signe de l'amitié et de la convivialité.
Je vous remercie de vos visites de plus en plus nombreuses sur mon blog.
Je ne reçois plus les newsletters de vos blogs, j'essaie de me réinscrire au fur et à mesure.
Je vous souhaite un agréable printemps.
A day for exchange and sharing. A day under the sign of friendship and conviviality.
Thank you for your increasing number visits on my blog.
I no longer receive newsletters from your blogs, I try to re-register me one by one.
I wish you a pleasant spring.

Margueritte Chiffons
15 mars 2014
Entre deux instants jardinage, j'ai pris le temps de faire ma deuxieme maison. Ce mois ci c'est l'hiver qui m'a inspiré, je suis un peu hors saison.
Je suis curieuse de voir les versions de Barbara et Rouge Cerise, j'y vais de ce pas.
Between two instants gardening, I took the time to make my second home. This month it's winter that inspired me, I'm a little out of season.
I'm curious to see versions of BBarbara and Rouge Cerise,, I go to this step.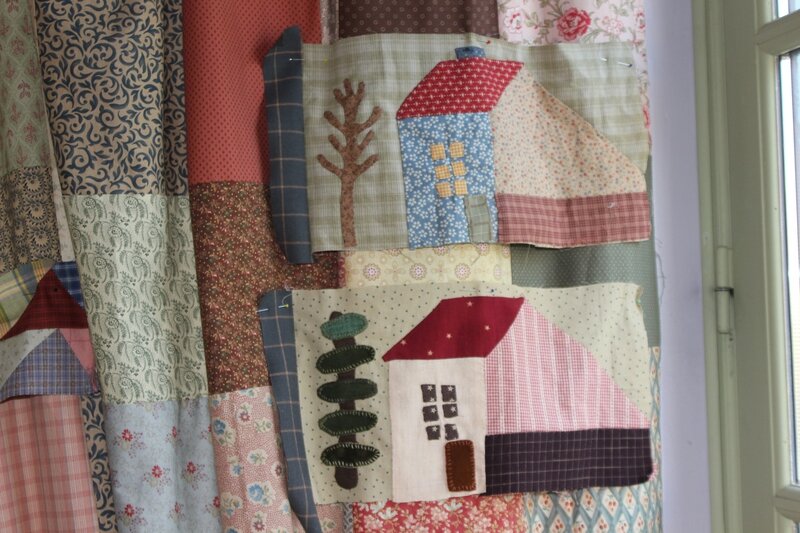 Et ma maison bleue.
And my bleu house.
J'aimerai vous faire decouvrir le blog de Marie Victorine une brodeuse conteuse.
Je vous souhaite un bon week end.
I'd like to introduce you to the blog of Marie Victorine storyteller embroiderer.
I wish you a good weekend.
Margueritte Chiffons
06 mars 2014
J'aime les paniers, les petits, les grands, les ronds...
Pratiques, ou juste décoratifs, il y'en a dans toute la maison.
En voilà quelques uns !
I love baskets, small, large, round...
Useful, or just decorative, there are all over the house.
Here's a few !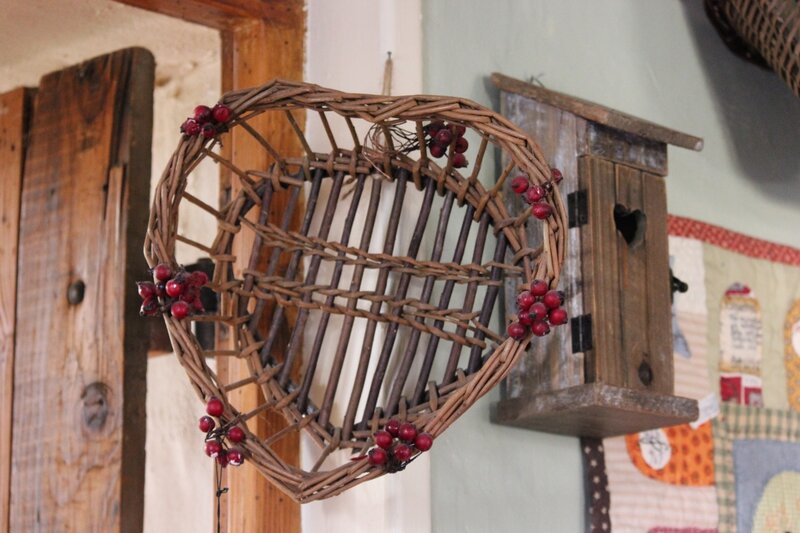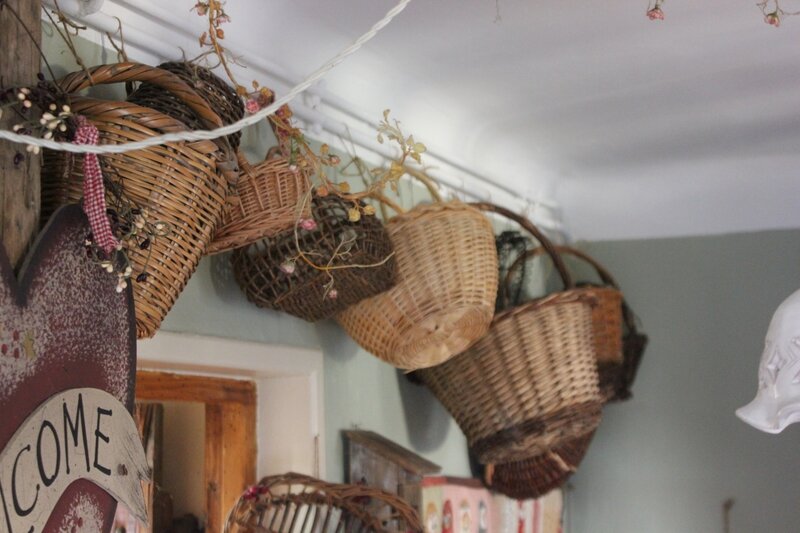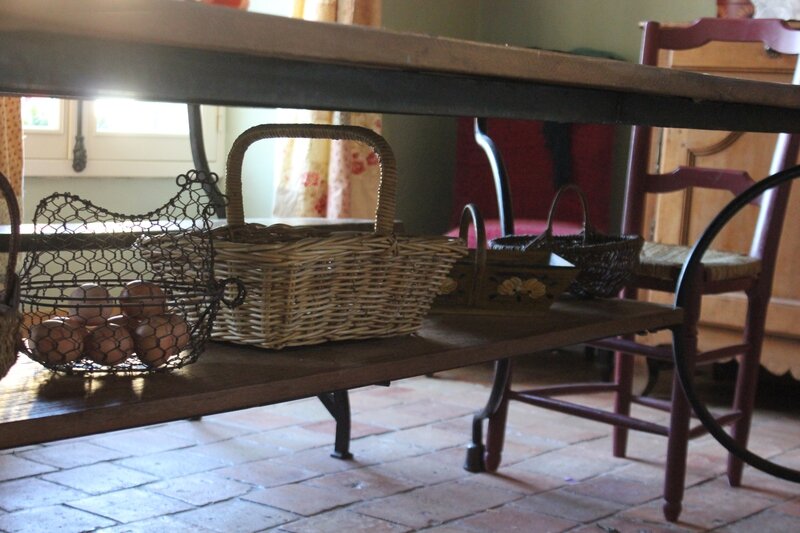 Des formes originales.
Originale forms.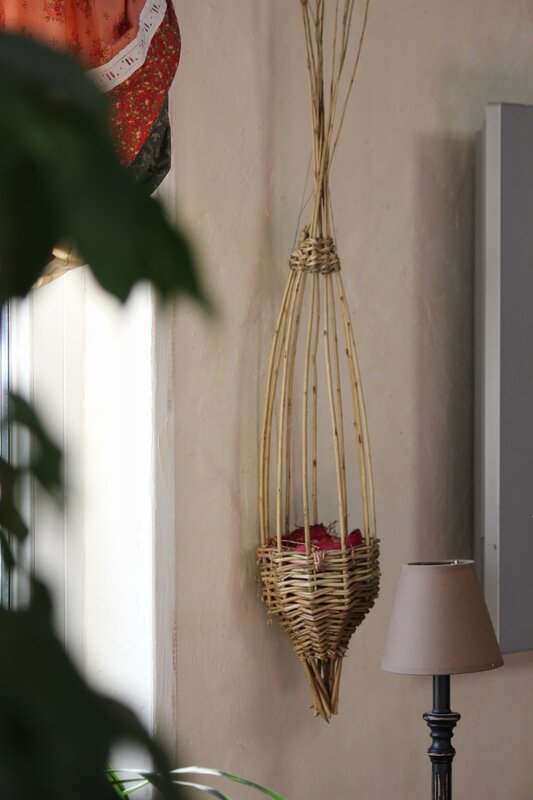 Vous connaissez l'expression du "Panier percé" ? Ma grand mère l'utilisait souvent.
Do you know the expression my grand mother said "Panier percé" ?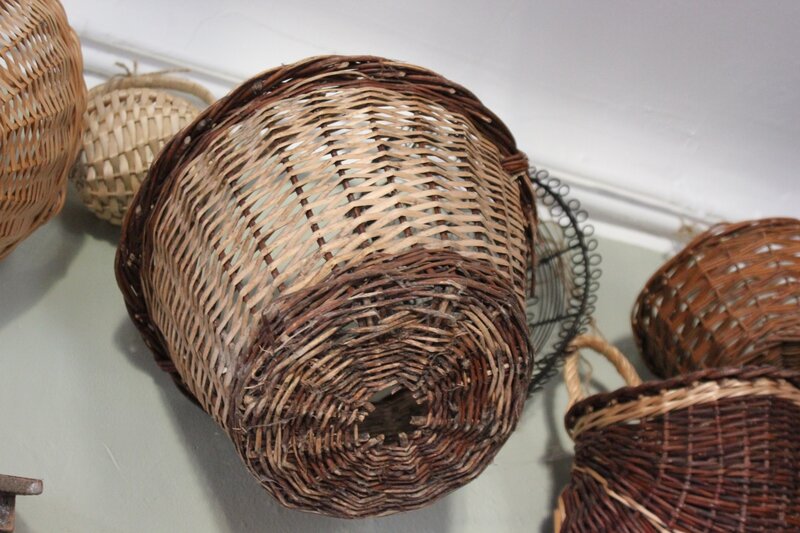 La poutre s'est parée pour le primtemps.
Beam is dressed for the spring time.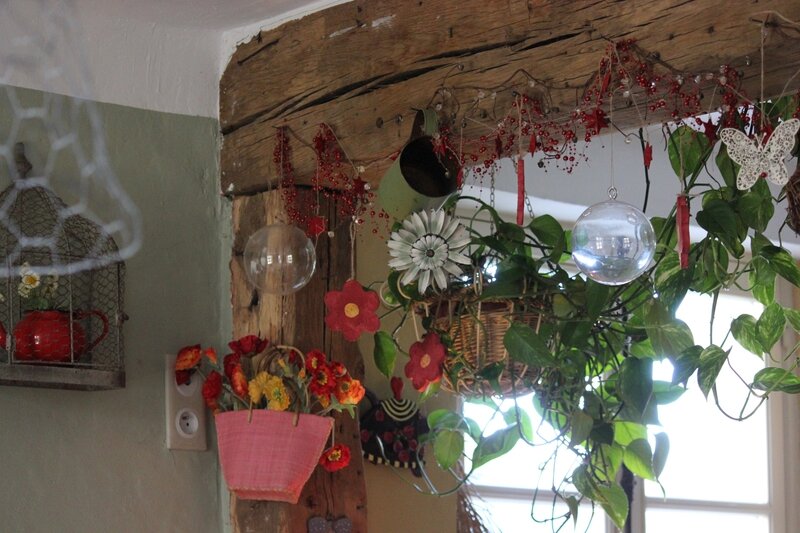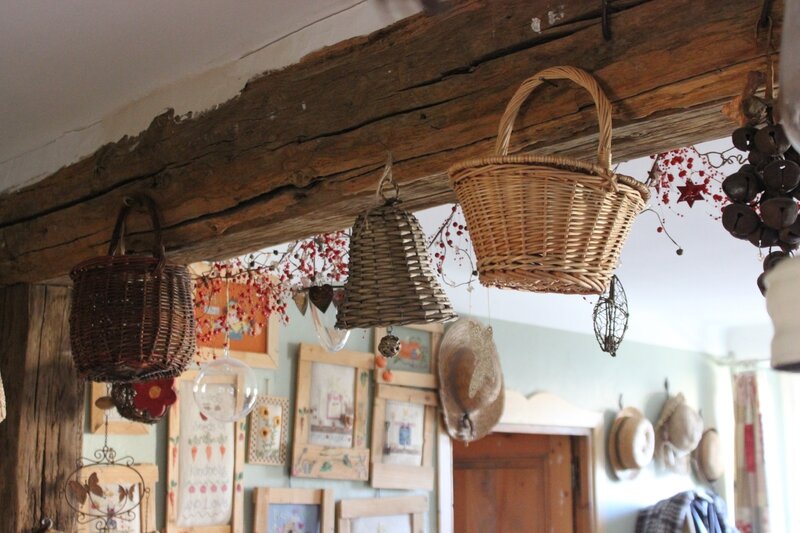 Dans l'atelier, le panier à dentelles,
In the workshop, the basket for laces,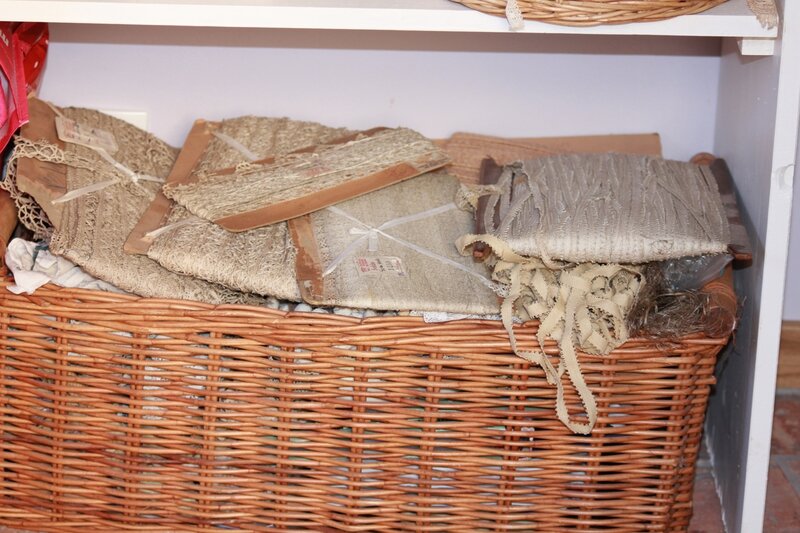 Le préferé du chat.
The Favorite of the Cat.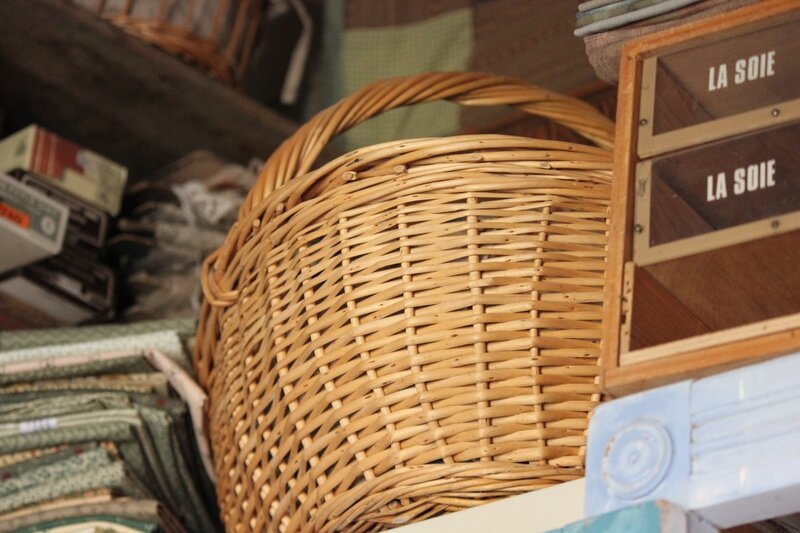 Des paniers que j'ai rhabillé
Some I dressed
Un "chuut" en préparation dans celui ci, un petit clin d'oeil à ma copine. Doublure en tissu Anni Downs.
A "chut" in preparation in this one, a little look at my friend. Fabric Anni Downs.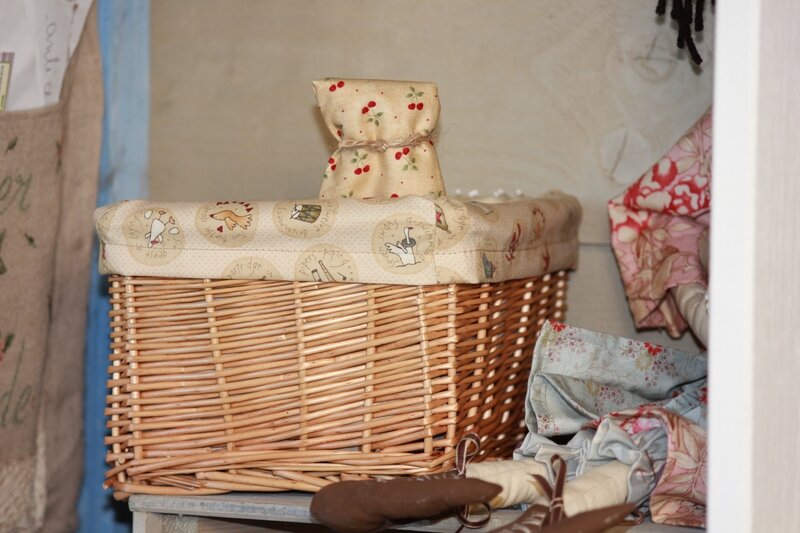 J'ai brodé des étiquettes sur ces paniers où sont rangés le lin et la feutrine.
I embroidered labels on these baskets where are stored linen and felt.
Celui de l'escabeau qui est en ficelle.
This one on the ladder is made in rope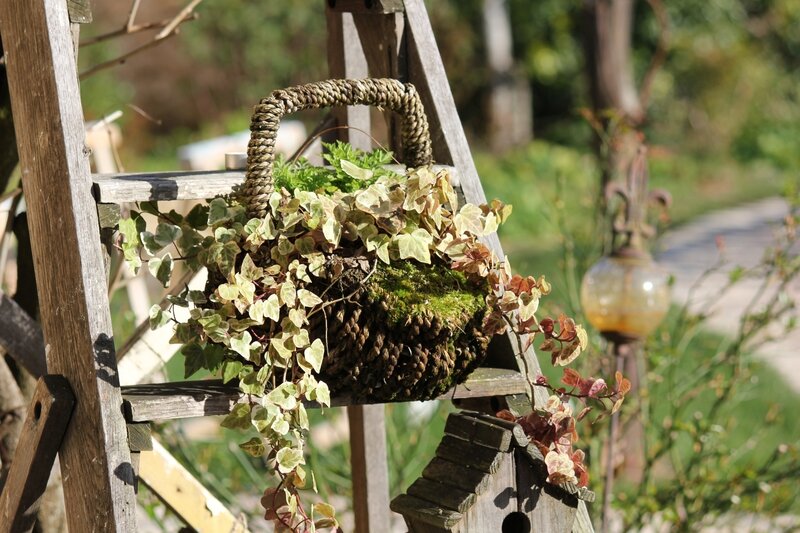 Et une hellebore rose
And a hellebore rose
Et vous, quel panier etes vous ?
Quand à moi,Sans aucune hésitation panier percé pour le patch.
Je vous souhaite de passer un bon week end.
And you, which basket are you?
Me, without any hesitation "panier percé" for the patch.
I wish you a good weekend.
Margueritte Chiffons .
15 février 2014
Un nouveau projet, les 4 saisons d'une maison, inspiré d'un modèle de Cheri Payne. Ces petites maisons très country ne pouvaient que nous séduire et c'est ainsi que notre trio Barbara, Rouge Cerise et moi avons décidé de faire ce panneau au rythme d'une maison par mois.
J'ai commencé par celle du printemps (ce modèle n'est plus diffusé, voir histoire du modèle sur le blog de Rouge Cerise).
A new project, the 4 seasons of a home, based on a model of Cheri Payne. These small country houses seduced us. Our trio, Barbara, Rouge Cerise and I we decided to make this panel at the rhythm of a house per month.
I started with the spring (this model is no longer published, see the patern history on the blog of Rouge Cerise).
Ce panneau adorable de la marque Buttermilt basin, m'a été offert par Passionnée. Une marque que j'ai découverte récemment chez Anne Carol.
Il a trouvé sa place sur la poutre de mon atelier.
This adorable Buttermilt basin panel, was offered to me by Passionnée. A mark that I recently discovered at Carol Anne's home.
It found its place on the beam of my workshop.
La Fée Kgoolette m'a brodé ce ravissant coussin pour accompagner mes ciseaux.
Fée Kgoolette embroidered this delightful pillow for me to put on my scissors.
Ma jardinière d'hiver, des pensées, une rose de noël, des fleurs avec des baies roses et blanches, un petit coin fleuri !
My winter garden, some pensées, a christmas rose, flowers with pink and white berries, a small flowered corner !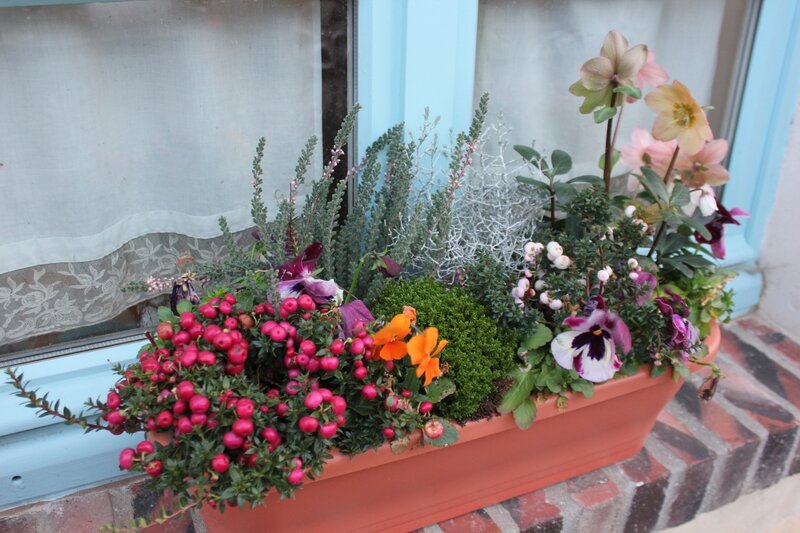 Pour le petit plaisir du matin la rose de noêl à la porte d'entrée.
For a small morning pleasure, the Christmas rose at the front door.
Vous pouvez également visiter mon dernier album photo "Le calendrier de l'avent".
You may also visit my last photo album "Le calendrier de l'avent".
Bonne soirée
Margueritte Chiffons
10 février 2014
Aujourd'hui je vous propose une visite dans un quilshop de Conway dans le New Hampshire " VAC n'sew".
Today I propose you to visit a quilshop in Conway, New Hampshire: "VAC n'sew".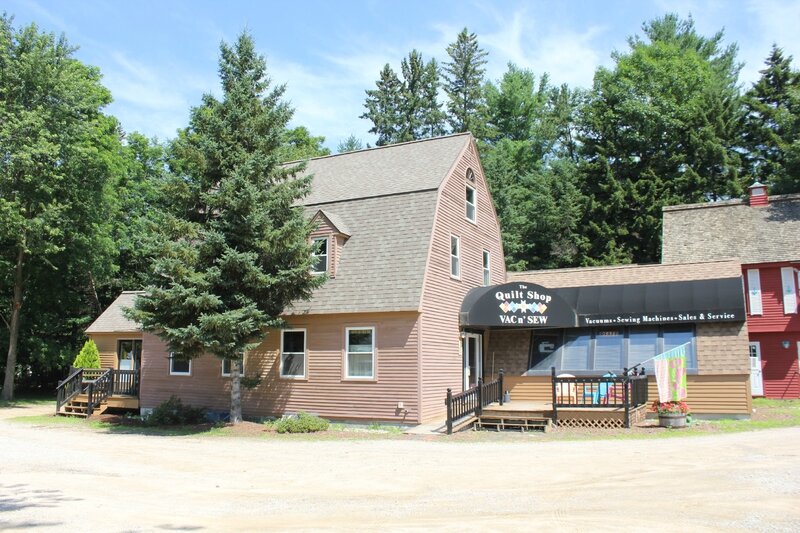 Mon preféré, "Across the wide Missouri" de Jan Patek et Edie Mc Ginnis.
My favorite, "Across the Wide Missouri" by Jan Patek and Edie Mc Ginnis.
Ce quilt me fait rever à des vacances en pleine nature dans une maison en bois, il fait partie de mes projets.
This quilt makes me dream about holidays in a wooden house in nature, it's a part of my projects.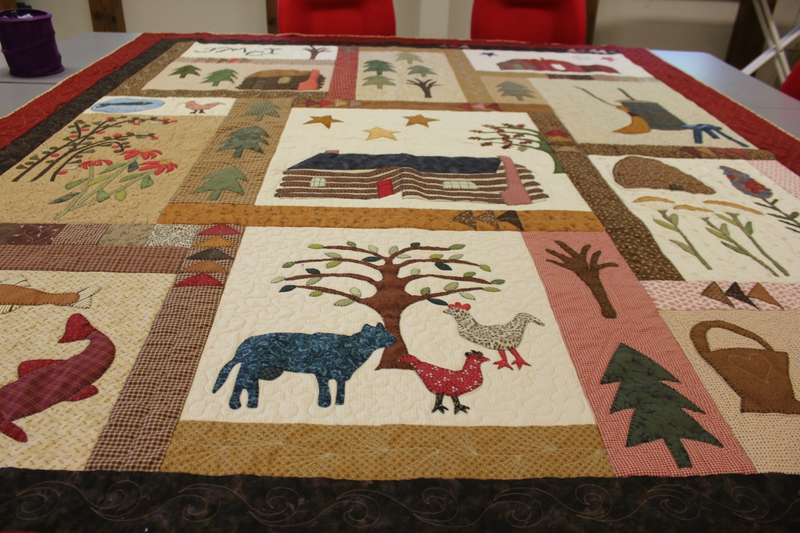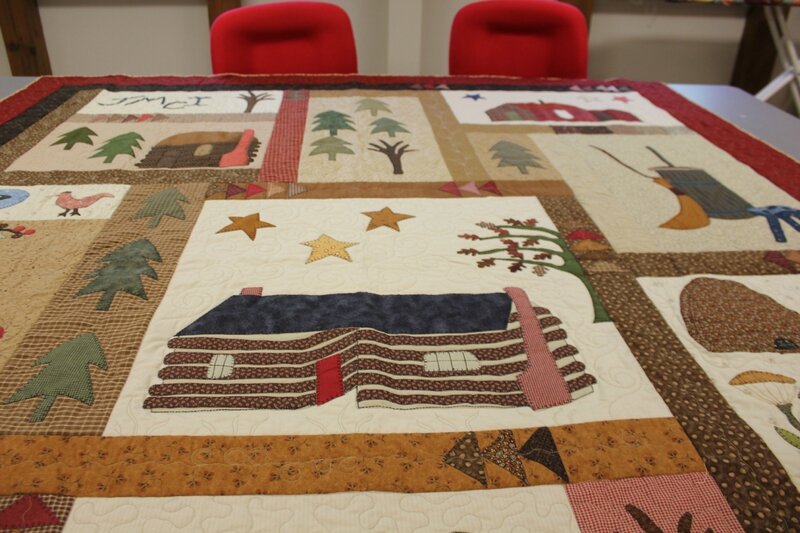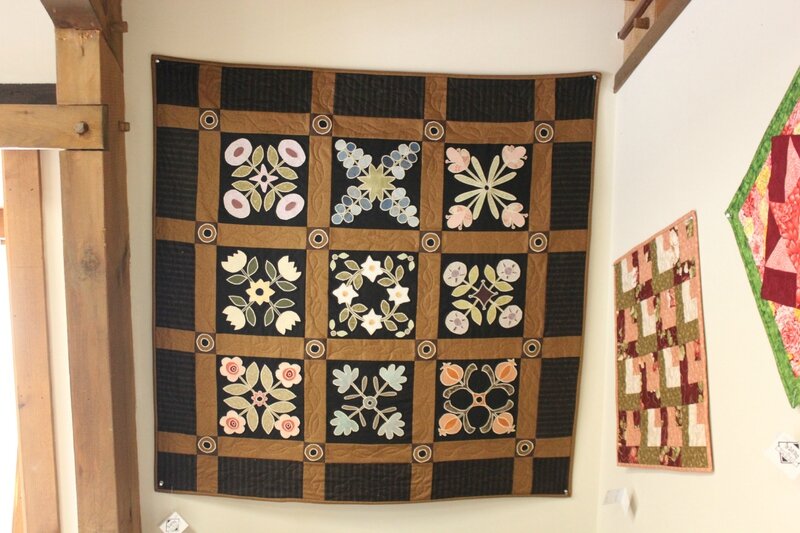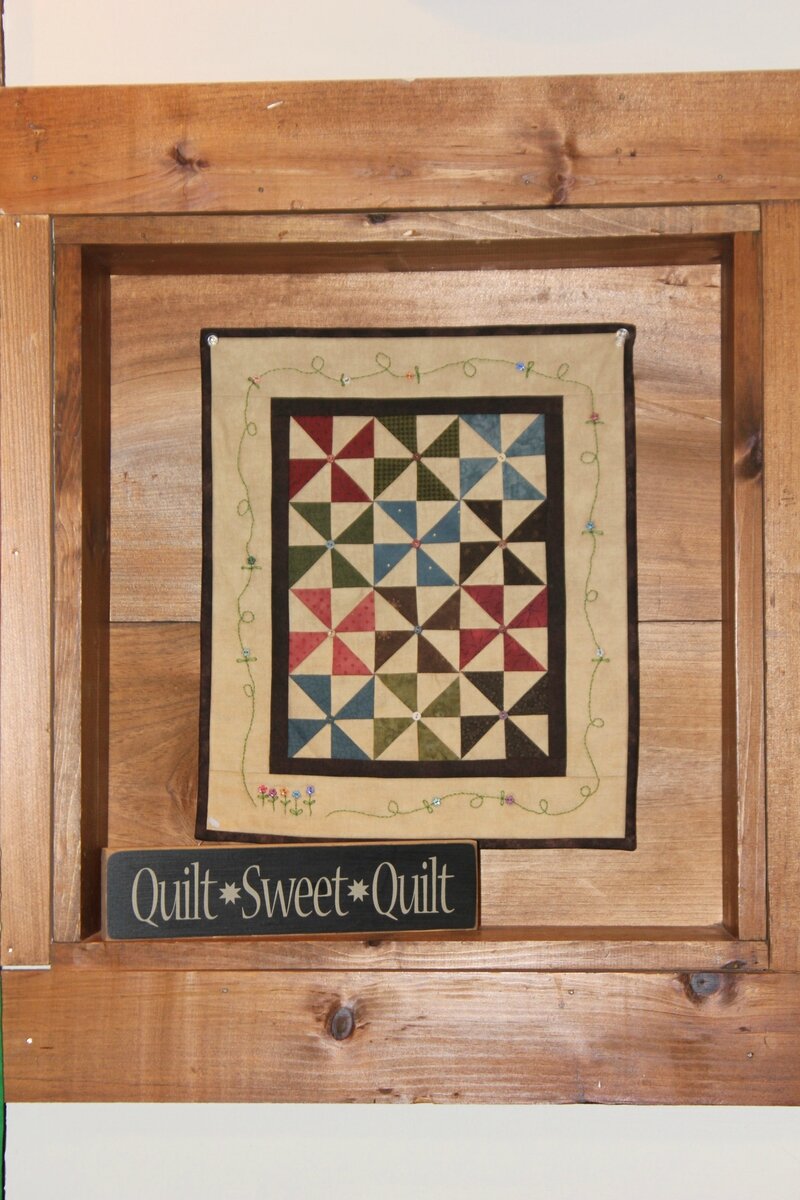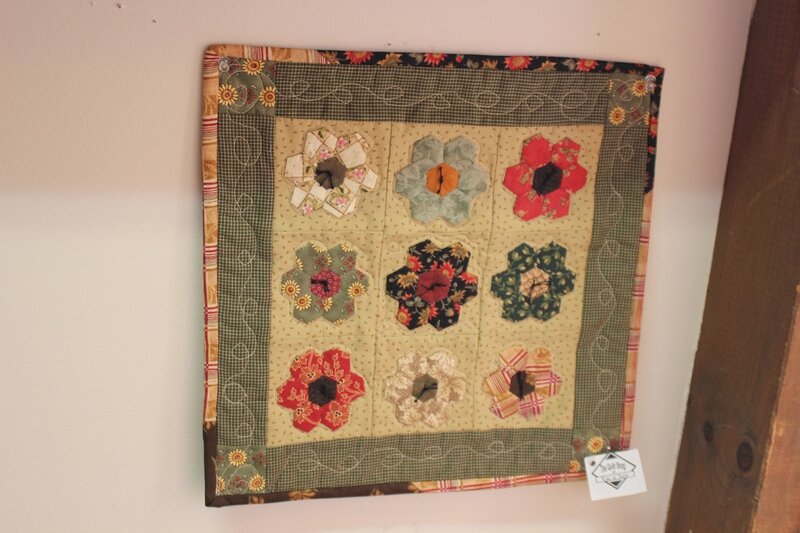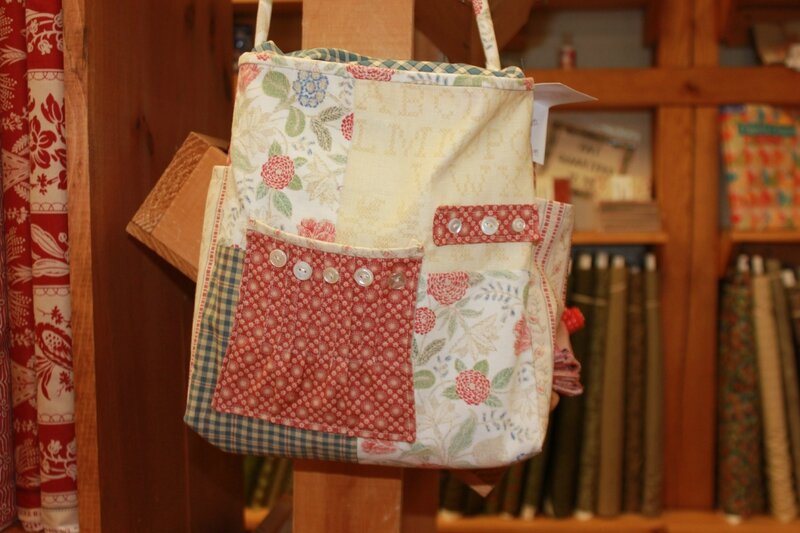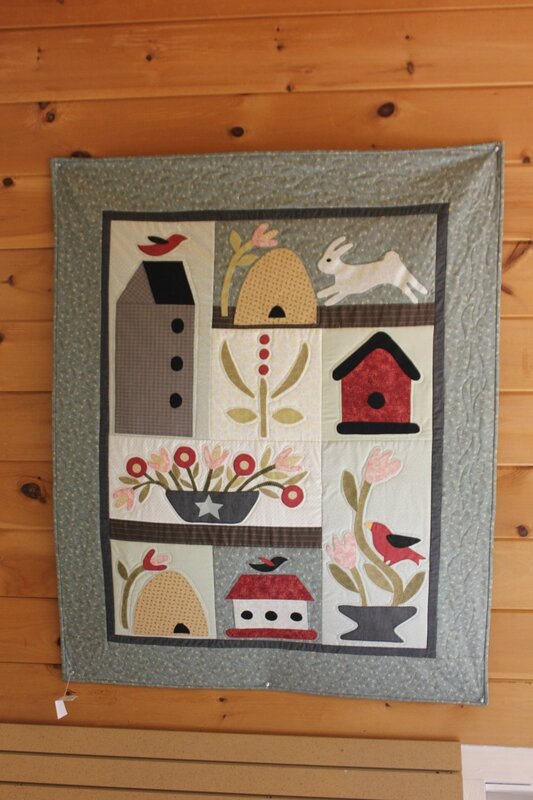 Des étoiles même au sol.
Stars even on the floor.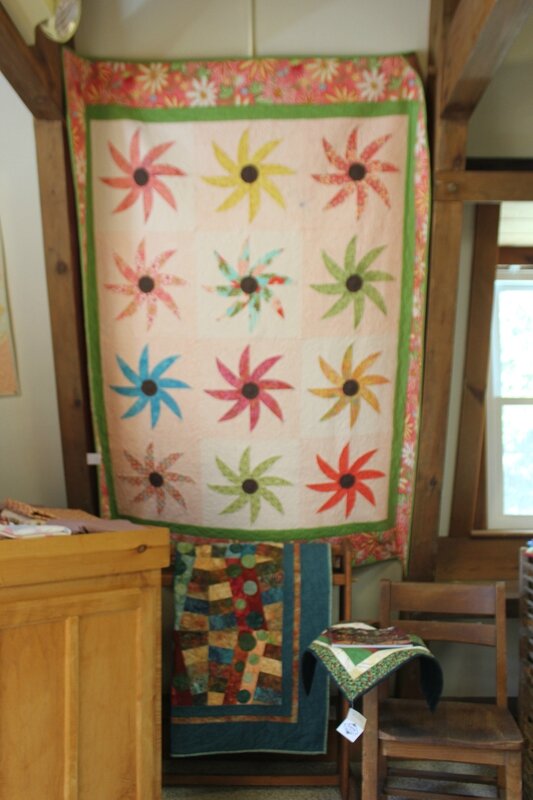 Ce soir, peut être que vous rêverez de bolts, de quilts comme moi .
Je vous souhaite de belles soirées à coudre.
Tonight, maybe you will dream of bolts, quilts like me.
I wish you beautiful sewing evenings.
Margueritte Chiffons
02 février 2014
abandonnée dans une boite, lorsque deux fées se sont penchées sur cet ouvrage et m'ont invitée à le finir avec elles.
Zaza et Passionnée , d'un coup de baguette magique m'ont donnée envie d'appliquer ces bouts de tissus pour donner vie à ce village imaginaire. Le Quilt shop, la nichoir, le cottage ont rapidement trouvé leur place pour parader sous une guirlande de coeur.
Once upon a time a tissue bascket abandoned in a box, when two fairies looked at it and invited me to finish it.
Zaza and Passionnée with a magic wand made ​​me want to apply these pieces of fabric, to give life to this imaginary village. The Quilt shop, the birdhouse, the cottage quickly found their places under the garland of hearts.
J'ai voulu faire un clin d'oeil à mes copines Passionnee et Zaza avec ces pancartes!
I wished to make a nod to my friends Passionnee and Zaza with these road signs!
Allez voir leurs versions ...
Go to see their versions...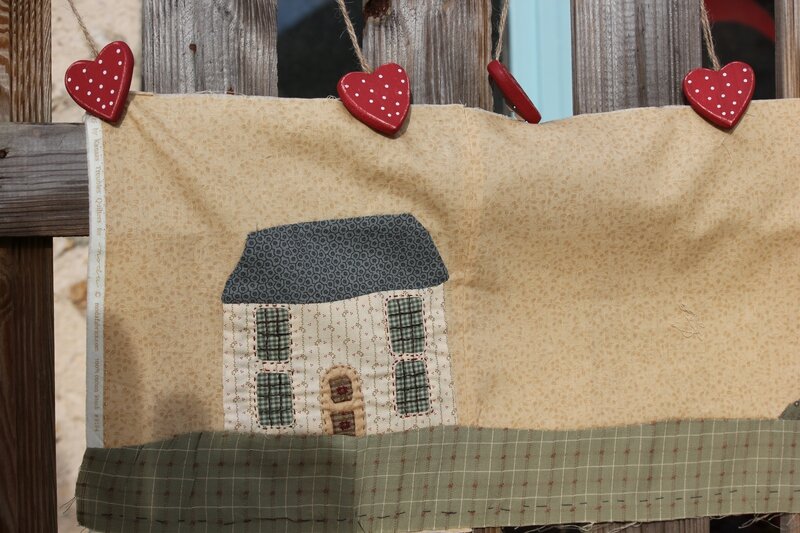 Modèle de Véronique Requena, Born to quilt.
Patern from Véronique Requena, Born to quilt.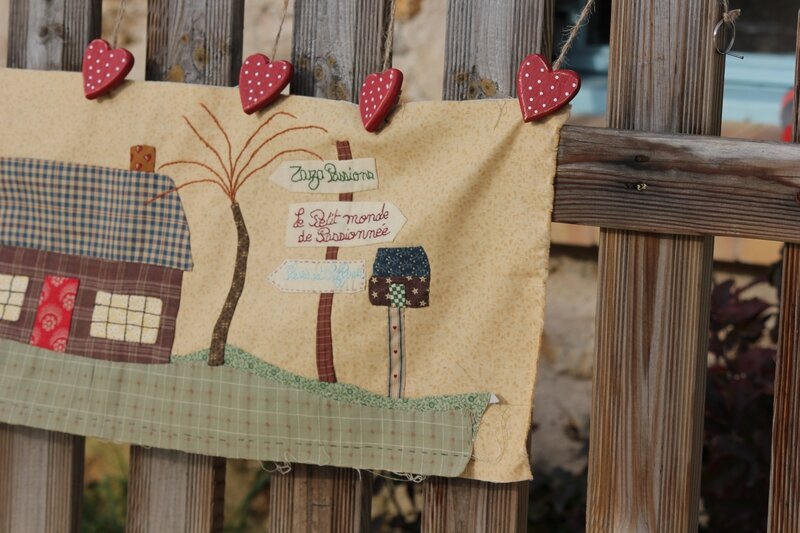 Des boutons, des broderies vont venir habiller ce panier et également un personnage qui vous donne rendez vous dans un mois.
Buttons, embroidery will come to dress this basket as well as a personage you will meet in a month.
Bonne Chandeleur et à très bientôt.
Good Candelmas. See you very soon.
Margueritte Chiffons
.